Our Skydiving Heroes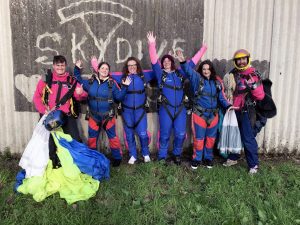 Saturday 21st October was a memorable day for 4 intrepid very brave ladies having agreed to jump out of a perfectly good aircraft at 10,000ft to raise money for North Staffs Mind! None of them had ever done it before, but were determined to step as far out of their comfort zone as necessary to complete the task. Successfully completing the jump wasn't their only achievement. Two of them had only 3 months to lose 19kg in weight between them in order to be able to compete!!  Three of the team were employees of our supportive sponsor Travelworld. The other team member was our very own 'Stay Well CYP Administrator and Housing support worker – Caroline! 
Collectively, they raised over £2,000 for North Staffs Mind with donations still coming in.
L to R – Rebecca Protheroe, Caroline Gacek, Cathy Hordern and Yassemin Tilan. 
What an inspiration! All of them have said they want to do it again, so we are planning another skydive challenge for June 2024. If you fancy joining them please email fundraising@nsmind.org.uk for further information.
Posted on: 23rd October 2023